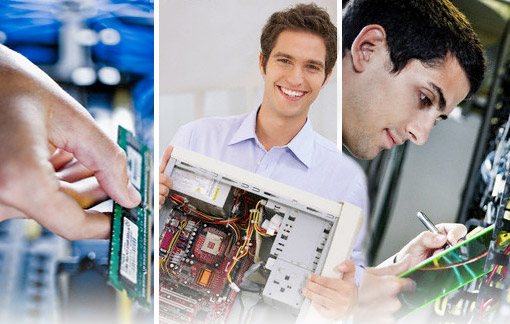 Onsite Solutions
We will come to you where ever you are!
Anything from Virus/Spyware Removal to Laptop Repairs, we work to provide you with a cost effective computer repair solution that not only makes sense technically but also financially. There is no need for you to disconnect all of your computers parts and drag them to a store. We'll come to your home or business and fix the problem right in front of you. In many cases we can get a technician to you the same day you call. You won't find us in a retail store, but we are just one call or click away.
PC Tune-up
Only $49.99!
Remote Support
Available!
A complete PC Tune-Up at the click of a mouse! A certified online technician uses our broadest collection of tools to speed up your computer and protect against risks, ensuring your computer is running at peak performance!
-Scans, identifies and removes spyware and viruses
-Updates anti-spyware and anti-virus definitions and software
-Clears out Temporary and Start-up files
-Configures Windows updates
-Conducts PC optimization and removes unnecessary processes
-System Defrag
Schedule Service Now or Call 877.827.8080!
For remote support, click the 'Buy Now' button to get Started!

PC Rebuild
Only $99.99
Rebuilding your PC with a new operating system will first give you the new features of the updated operating system, as well as clean up your computer to get it running at its optimum performance.
First, all the data on the computer is backed up
Then all of the drivers are backed up so that the add-on devices, such as the video and sound card, will be able to function properly after the tune up
Your hard drive is then reformmated
The operating system of your choice is then installed on your pc
Application programs are installed on your pc
Virus and Spyware software is installed to maintain the optimum performance of your pc
The drivers and files are then reloaded onto the computer
The computer is then checked one more time to make sure everything is working properly
Finally, the computer is returned running at top performance.
Schedule Service Now or Call 877.827.8080!
PC Overhaul
Only $149.99
The PC Overhaul contains all the components of the PC Rebuild. We will also provide you with a 1GB Ram upgrade and install premiere word processing and antivirus software. Your computer will run as if you purchased a brand new computer. Not only will you increase its speed, but your systems performance will also be optimized.
Schedule Service Now or Call 877.827.8080!